| | |
| --- | --- |
| Jayce Tied and Gagged Bondage Bdsm WAM. | |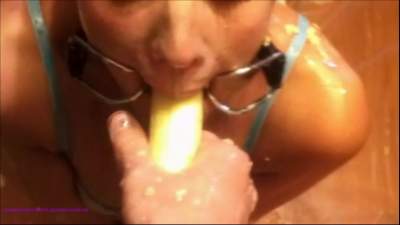 Starring the following model:
"Jayce helpless to resist as she is messed up"
| | |
| --- | --- |
| File count: | 1 |
| Total size: | 384.67 MB |
| Total runtime: | 9 mins, 56 secs |
| Date added: | 12/06/17 |
| Views: | 1967 |
| Scene ID: | 25830 |

$9.99



As the scene opens we can see Jayce is gagged, and her hands are tied, and she is only in her bra and knickers. Her captor is cruelly stroking her hair and her cheeks before running his hands over the exposed area of her breasts, and then down her arms and legs. Poor Jayce can't resist. Then her captor takes her by the back of the head and forces her face into a bowl of green gunge. She moans from behind the gag, but her captor only dunks her in the slime again. Her captor then rubs the slime into her cleavage before freeing her nipple from beneath her bra and caressing it with his finger. Next she is made to crouch on all fours, and slime is poured down her back and over her panties, before her captor rubs it into those light blue knickers, before cruelly pulling them back, exposing her bare bottom. Next he pours and smears oatmeal over her bare back and then pulls the back of her knickers out, so the oatmeal slides in and fills up the back of her panties. He then gives her a messy wedgie freeing some of the oatmeal. Jayce moans from behind her gag but no mercy is shown. The evil captor then massages the oatmeal of Jayce's bare bottom cheeks and even rubs the back of her pussy through her knickers, before putting the empty oatmeal bowl on Jayce's head for added humiliation. He removes the tape from her mouth and replaces it with a bondage gag that leaves her mouth open..but why. We see the captor approach Jayce with a banana which he inserts into her mouth and makes her fellate, before running it over the front of her knickers.

Then he gets more green slime and pours it over Jayce's head and all over her body.

The scene ends with Jayce giving us a wave so we know that she is fine and you have been watching an acted fantasy scene

Report
.